About Us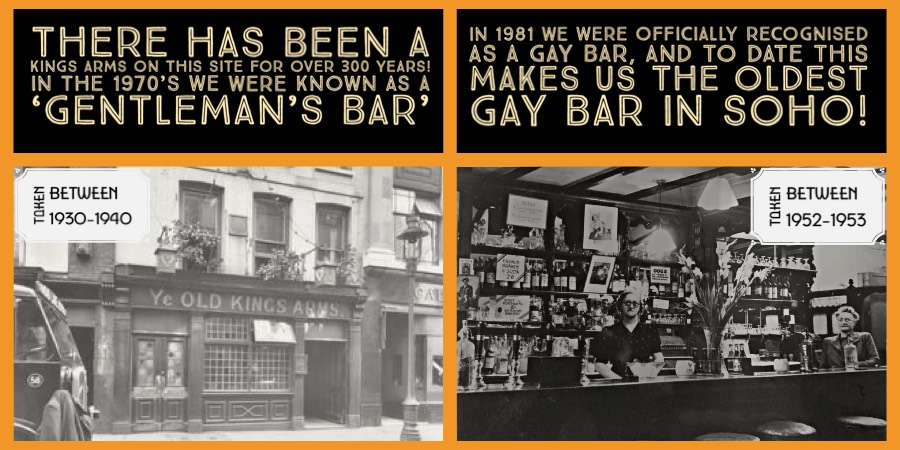 With a long and proud history as a safe space for the LGBTQIA+ community, it's no wonder we're Soho's oldest gay bar. As firm favourite to the Bear community over the years, they affectionately call us 'The KA', and refer to us as 'London's Favourite Bear Bar'.
We've something for everyone from our midweekly Quiz night, Cabaret, Dragaoke and our new LGBTQIA+ Open-mic night. At weekends we have Guest & Resident DJ's playing disco, house and electro beats and not forgetting our Legendary Bearaoke (it's been going for over 20 years!)
With our traditional charm, warm and friendly welcome, great entertainment and a well-stocked bar, be sure to put the Kings Arms at the top of your list of pubs to visit.

Featured Events
Sat 28th May 2022
Upcoming Events
Sun 29th May 2022
Mon 30th May 2022
Tue 31st May 2022
Family Policy
Respect our Safe Space - We are a safe space for the LGBTQIA+ community, we will not tolerate any discrimination, abuse or violence.

We support and operate 'Ask for Angela'

Age 18+ only - No children allowed at anytime.

Challenge 25 policy in operation - If you're over 18 but look under 25, a member of our bar team will ask you for ID.... No ID, No Entry, No Service.

Dog friendly - but must be kept on a leash.